First, I am sorry for my english. I just want to help tourist from any greedy minibus. Lampang is a province of Thailand (North of Thailand). There are many beautiful culture and places. Below is my shorts in Lampang.
(Click for larger image)
Wat Pra Khaeo Don Tao (We call temple "Wat").
Wat Chetawan
Wat Phra That Lampang Luang
Wat Chedi Sao Lang
I will show more pic in other post. In this post I will tell how to avoid to pay over price for minibus. Minibus in Lampang is show below.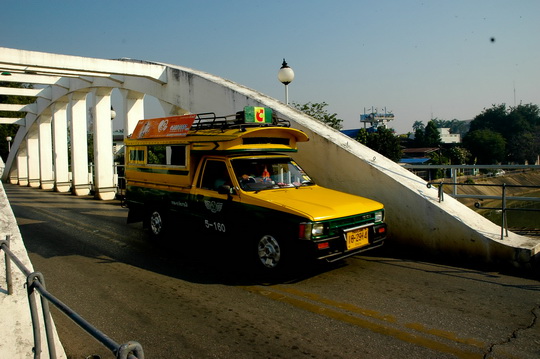 If you are the foreigner or Thai tourist, they may offering expensive price.
How to get fair price
I know the price because I am a local person. Then please note that if it is about 10 km from the center, you can travel with other passengers for only 30THB. Then if it is not over 10 km and with other passenger doing below.
Do not asking for price. Just point to the picture of place and saying "Pai ti ni". It means "Go to there". Minibus with yellow or blue color will always travel around center of Lampang. See picture below. Red star is Lampnag Transport Staion that is the first place you are. Red circle is fair area for 30THB.
When you get into target, just pay them about 30THB.
Please note that if you are at Transport Station, you have to waiting until the bus is full within passengers. You can sitting on the bus and waiting.
If you are on the road and want to get minibus, just put your hand up when see minibus (yellow or blue minibus). Do not asking for price if it is around or near by red circle. Just point to the map or picture of the place and said "Pai ti ni" (Go to there). Pay them 30THB after get the place or near by.